Troupes de Marine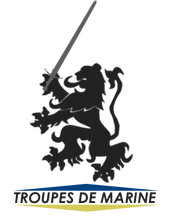 Motto: "Honneur et Fidelite"
Active:  2321
Headquarters: Languedoc
Size: To-be-decided
Colours: Dark Blue, Olive
Commandant: To-be-decided
Chief Sergeant: To-be-decided
The Arionesse Marine Corps, officially Troupes de Marine ("Marine Troops") is a branch of the Arionesse Navy that is responsible for land-based millitary operations, as well as the protection of naval vessels and civilian and millitary installations.
Ad blocker interference detected!
Wikia is a free-to-use site that makes money from advertising. We have a modified experience for viewers using ad blockers

Wikia is not accessible if you've made further modifications. Remove the custom ad blocker rule(s) and the page will load as expected.