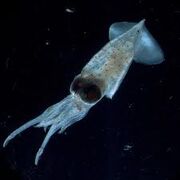 Space Squids. Yeah. Space Squids, Ye heard me! 
Apperance
Ya know....Squids....in...Space
Social Structure 
Each family is a herd. Each herd is part of a larger Mind. The Minds will meet in times of emergency or new contact with a speices. They are mildly telepathic.
THEY EAT SPACE WHALES
Also, due to life in space being harsh and all, they have devolped a secondary stomche capable of digesting metals and other inorganic compounds. So you know that nice new ship?
They can eat it.
Ad blocker interference detected!
Wikia is a free-to-use site that makes money from advertising. We have a modified experience for viewers using ad blockers

Wikia is not accessible if you've made further modifications. Remove the custom ad blocker rule(s) and the page will load as expected.