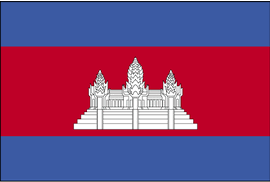 BackGround Story
---
In The Year 2112 CE, Cambodia believed that Earth will fall and become very dangerous to be on. Cambodia quickly built a spaceship and launched it into space.They left the Milky way for hope of a new world....A new beginning. Cambodia Brought many things with them Rice,Silk,Animals,and Much more for there new lives.
Information
---
Cambodia has arrived on a new planet originally called Alpha Centauria Bb loctated in Alpha Centauria IV.
Capital: New Phnom City
Economy:Normal
Military:Small
Goverment:Monarchy

Culture and Technology
---
Cambodia has brought back much of their Asian Culture.They are hardly advance but willl be researching tech as they advance.Cambodia now lives in peace. Cambodia Contines to Farm Rice and weave silk but are very lonely without other humans around.Cambodia still Worships budda,Celebrates Old holdiays and,Eat there food as usally.
Ad blocker interference detected!
Wikia is a free-to-use site that makes money from advertising. We have a modified experience for viewers using ad blockers

Wikia is not accessible if you've made further modifications. Remove the custom ad blocker rule(s) and the page will load as expected.