25px THIS PAGE IS OUTDATED
This page focuses on the Stellar Adventures Project II.20px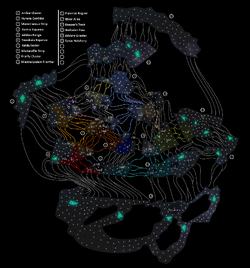 This page is a list of all empires, or states, to ever exist in the second incarnation of the
Stellar Adventures Project
,
SAP2
. The
Milky Way Galaxy
, where SAP2 takes place, is home to a wide number of intelligent races, with many more continuing to be discovered regularly, all of varying states of
technological advancement
, biological or artificial makeup, ideology, philosophy, culture, history, economic status, political power, and so on.
Admin Factions
The administrators of the Sci-Fi Mini Builders may on occasion use several admin races or factions to balance out the Stellar Adventures Project, address an issue within it, or to commence some sort of special event. At present, these factions include:
Player Factions
Read More: Category:Empire
The following factions were created at some point by players within the Stellar Adventures Project, among which include both player-controlled and NPC factions as well as both existing and collapsed factions:
DO NOT REMOVE FACTIONS, REGARDLESS OF THEIR STATUS.
Ad blocker interference detected!
Wikia is a free-to-use site that makes money from advertising. We have a modified experience for viewers using ad blockers

Wikia is not accessible if you've made further modifications. Remove the custom ad blocker rule(s) and the page will load as expected.