Galaxy Name Vote [Closed]
UPDATE 2: Voting has concluded, and here's the results: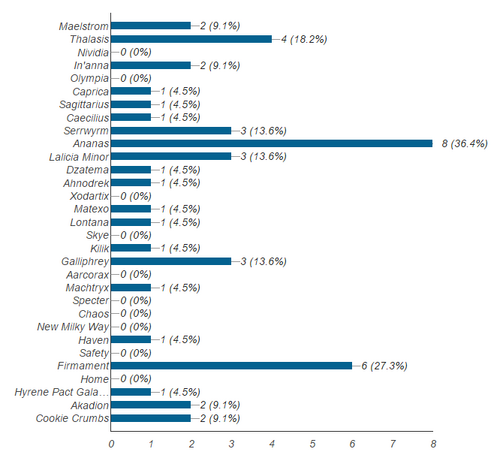 As you can see, Ananas came in first with 8 votes,and after consideration of its validity it has been deemed the winner - we shall henceforth live in the Ananas Galaxy!
---
UPDATE: It's been a week now and a few days since the last submission, so it's time to get voting! Select all the names you like, the name with the most votes overall will win and admins will break any tie that emerges! And then, once you're done, just get on back to your roleplaying on the wall while we wait for the results to be collected in a week!
THIS IS THE LINK [1]
---
So, I've raised this topic a bit now and then since we moved to this new galaxy, both among the Council and in the general chat, but not having an officially, universally agreed upon name to refer to this galaxy with, at least in meta discussion, is inconvenient at best, so I'm just gonna force the matter, lol.
If you have any ideas for the galaxy's name, now is the time to share it here, then next week or so I'll put them all into a poll and we'll vote for what we like best, a simple majority will win and that'll be, for then and forever more, what we call the galaxy, it'll be used in discussion, in RP, on wiki pages, and every post-move page will probably eventually be added to a category of that name, so you'll be seeing it all over.
Admins reserve the right to remove entries if deemed inappropriate, and if we don't get any submissions I reserve the right to use every executive power I can make up to force some random name of my choosing upon all of you. What show am I watching right now, what book am I reading, what game am I playing? Will you be living in the Xfilia galaxy? The Nightvalia Galaxy? The Newleafia Galaxy? Do these names appeal to you? No? Then submit your own ideas ASAP! Hurry, while there's still time! Go! Just do it!