Water World Server
---
Hey, so due to some issues with the timing of when our previous server is going down and how long it will likely take for us to get our next server off the ground, I was thinking, based on a conversation with some of ya'll in which you expressed some interest in this idea, that we might in the mean time go through with the idea for a water world map? It would likely be a much easier build than the Early Space Server we'll be working on here soon so we can probably get it up fairly quick I'd imagine.
What would this entail?
OK, so basically the world is mostly covered in water but there will be a few, SMALL islands most of which you're unlikely to find a serious amount of resources on. Players can potentially settle on one of these islands, but settling on the water or on the sea floor is probably where everyone will find themselves.
Here's something I quickly worked up for what the server may look like: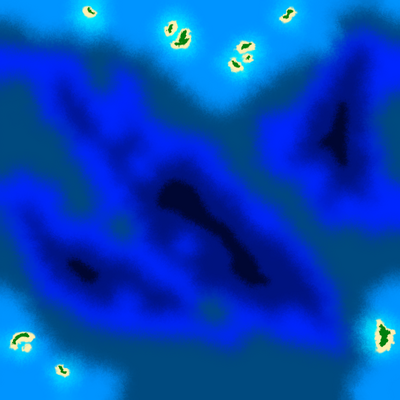 (Size, position, and amount of plant life may vary from what's shown here.)
I was also thinking that given these islands are going to be scarce and we don't want them to all be taken in the first few minutes and also since we probably don't want everyone uber spread out we might start the server off with most of the map covered up them gradually uncover it as time progresses and as we in RP become more familiar with our environment. Here's an example of that (note I shifted the map over slightly so the southern islands are together):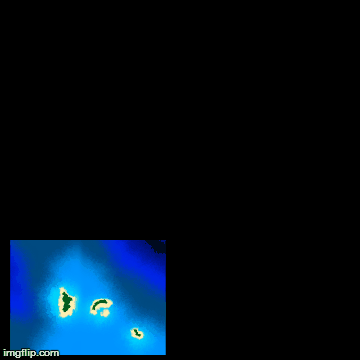 Now, on the matter of the theme, I was kind of thinking we might go for, well I'm not sure how quite to word this properly but basically like a junky theme. As an example, I was planning on joining as like a salvaged aircraft carrier with a bunch of structures on it built out of salvaged metal and then I was going to go around and trade with people and occasionally gather resources - that sort of salvaged, junky theme is kind of what I had in mind, like we're not at society's height anymore, if anything we're likely in the shadow of its decline. I mean, some factions might still be doing alright, they might still have some nice fancy new tech and have access to suitable resources and as such might be the sort of factions we find to have sophisticated undersea bases or major cities that take up entire islands but in general I would expect people to mostly be using old, used, salvaged tech and material as they explore the world to try to rebuild - or salvage - society.
Now, one of the rules i was also considering given my discussion with some of ya'll was to maybe limit if not outright forbid the use of air travel, because one of the complaints was that at our alien world server which had a nice big ocean people quickly seemed to just abandon their navies to focus on building huge airships and spaceships and that's not really something that would make much sense or make for as much fun and interesting RP here (when you're on a world covered almost entirely in water, you'll probably be doing a lot with that water - whether it be on or under it).
Thoughts? Ideas?